Jean Lafitte Swamp Airboat Tour
Start Your Booking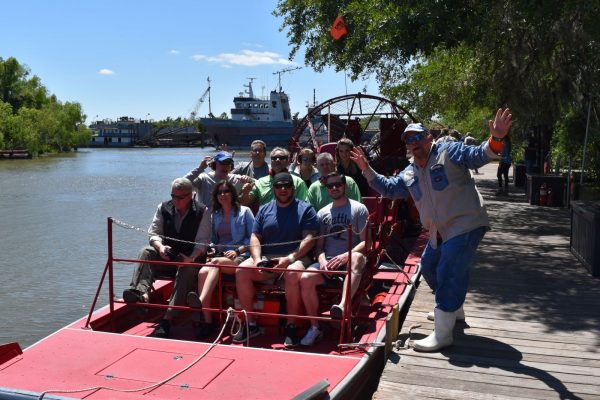 Get ready for an exciting adventure! Take a thrilling ride through the marshland and bayous of Louisiana, accessible only by airboat. We have been offering our airboat tours since May 2000. Seven airboats are available accommodating up to 98 passengers total. Each vessel is ready to take you to the far reaches of the bayous by using Chevy 454, 450 horsepower engines.
---
Tour Information:
Small Airboat Tour:
Holding up to 10 passengers each, the Small Airboat Tour explores Louisiana's back country along meandering bayous abundant with exotic plant and wildlife. Trained navigators escort you into the murky waters of Louisiana swamps where you will come face to face with the beauty and beasts of nature.
Tour only: $98
Tour with transportation: $123
Tour Details
Availability: Daily
Duration: 1 hour 45 minutes
All pricing is per person. Children under 5 are not permitted.
Tour Times:
Please check-in 30 min. prior to tour time
10:00 am (hotel pick-up between 8:30 am - 9:00 am)
12:00 pm (hotel pick-up between 10:30 am- 11:00 am)
2:00 pm (hotel pick-up between 12:30 pm - 1:00 pm)
4:00 pm (hotel pick-up between 2:30 pm - 3:00 pm) This tour time is seasonal, does not run during winter.
Please note your hotel pick-up will arrive during the 30-minute window.
Drive-up, Rideshare, Cab: 4757 Orleans Way, Marrero, LA 70072
DUE TO LIMITED CAPACITY, REFUND REQUESTS MADE LESS THAN 24 HOURS PRIOR TO THE TOUR DEPARTURE WILL NOT BE CONSIDERED. THIS INCLUDES MISSING THE TOUR FOR ANY REASON. HOWEVER, YOUR TICKET IS TRANSFERABLE AND VALID FOR UP TO ONE YEAR.
---
Reservation & Cancellation Policies:
Reservations made within 24-hours of scheduled tour time can not be guaranteed. Please call 504-293-2338 to reserve tours occurring within 24-hours, especially the airboat tour.
Cancellations must be received 24-hours in advance. There are no refunds after the 24-hour time frame. Time changes must be received 24-hours in advance.
Tours by Jean Lafitte Swamp & Airboat Tour are subject to cancellation in dangerous weather. Airboats are high speed, open boats without a top.
Jean Lafitte Swamp & Airboat Tours is not responsible for any cameras/video equipment lost or damaged due to water, splashes, or rain.
Pregnant women, children under 5 years old, and people with neck/back problems are not allowed to ride airboats.
All payments are nonrefundable.
Prices are subject to change.